Summary of support available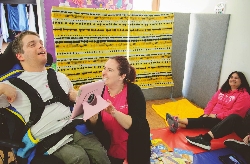 Provision: Rose Road
Location: Bradbury Centre, Aldermoor, Southampton, SO16 5NA
Type of provision: Overnight respite care
Suitable for ages: 18+
Telephone: 023 8072 1234
Website: Rose Road
Rose Road is a well established charity based in the city that provides a range of residential and community respite services for children and adults with learning disabilities and other health needs. Rose Road have a bespoke environment that supports people with complex needs.
The service is delivered in 'Oaks' and 'Acorns' residential units and they encourage individuals to develop their independence skills by focusing on a range of daily living tasks, such as assisting with meal preparation, tidying up and personal care.
The Oaks and The Acorns residential respite facility is registered with Ofsted and CQC, offering adults short-breaks and support in a safe and homely environment. The service is available to adults with severe learning difficulties, physical disabilities and/or autism. Rose Road staff assess the needs of each person to ensure we are able to provide the best levels of care and support.
A range of activities are provided, and during the weekends and holiday periods a variety of outings can be organised.
Oaks and Acorns also provide opportunities to enjoy community-based activities including bowling, cinema, theme parks, shopping trips and boat trips. Individuals are always offered opportunities to participate in activities and their choices are given, using their preferred method of communication.
The accommodation is in two spacious single-storey units, with separate accommodation for children and adults.
If you are interested in finding out more, then speak to your social worker.
For a complete list of respite care providers, please see the Arrange a break from caring section on Southampton Information Directory.