Southampton Foster Carers' Association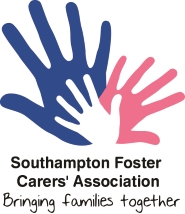 Once approved as a foster carer you automatically become a member of the Southampton Foster Carers' Association (SFCA).
The SFCA is an independent organisation run by the city's foster carers and is a registered charity (Charity number: 1137351).
The association offers activities and social events for fostering families and the children in their care. It gives additional help to foster carers with monthly support groups in two regions of the city.  The SFCA also provides newly approved foster carers with 'buddies' - putting them in contact with experienced carers who can offer advice and support when needed.
They organise annual events including fun days, barbecues, discos, day trips, a Halloween party and a Christmas grotto.
If you would like to help them to fund raise or would like to donate then please contact Southampton City Council's fostering service on freephone 0800 5 19 18 18.
Email: fostering@southampton.gov.uk
News
December 2020
Although this year's annual Christmas party, organised by the Southampton Foster Carer Association (SFCA), was sadly unable to go ahead, this didn't stop them from spreading some Christmas cheer amongst our fostering families. They worked hard with Santa Claus and his North Pole Operations and arranged for some of his elves to deliver presents to our fostering households! 
Helen, Fostering Team Manager, said "I want to say a really big thank you to the SFCA for their hard work and creative thinking this year. The SFCA Christmas Party is legendary and a highlight of the fostering year, and I know how hard the SFCA Committee worked to think of a wonderful alternative for this year."
The SFCA also held a 'Mega Christmas Raffle' online which had over 30 excellent prizes and raised an amazing amount of money for the charity.