New multi-use games area opening soon in Hoglands Park
A brand-new multi-use games area (MUGA) is being built in Hoglands Park. The MUGA will be a dedicated facility for people to play sport in the city centre all year round and is free for anyone to use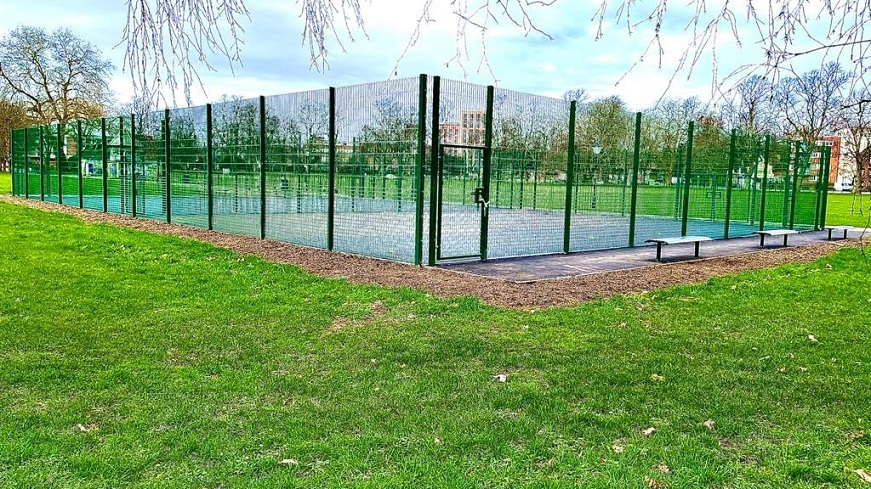 The new multi-use games area, suitable for both informal recreation and organised sport, is due to officially open in Spring 2021 when a polymeric sports surface will be fitted, as well as basketball hoops, football goals and cage cricket markings.
Councillor Steve Leggett, Cabinet Member for Green City & Place comments: "As one of our most popular open spaces in the city, this new multi-use games area will be a great place for a kick-about, or to try something different like cage cricket. We're making great progress on what will be a great addition to Hoglands Park, and I look forward to seeing the area revived for grass root games."
The multi-use games area has cost £85,000. Cage Cricket has contributed £24,000 towards building the multi-use games area and Southampton City Council secured the remaining funding from Section 106 developers' contributions. Other local community groups including West Itchen Community Trust and Awaaz Radio have also been involved with the project.
Hoglands Park is part of the city's five central parks awarded the prestigious Grade II* registration status on the Historic England Register of Parks and Gardens and have been awarded the Green Flag award. Southampton's Central Parks provide 21 hectares (50 acres) of lawns, mature trees, gardens, historic monuments and recreation facilities in the City Centre. Included in this are eight listed historic monuments, all-weather tennis courts, Mini Golf, cricket pitches, a bandstand, skate park, café and a large children's play area.
Other recent improvements to Hoglands Parks include a new picnic area and a wildflower meadow, created to encourage wildlife. Plans are also underway to create a brand-new concrete skate park to replace the existing facility.
Hoglands Park is also benefitting from the Safer Streets Funding provided by the Office of the Police and Crime Commissioner for Hampshire (OPCC), with new fencing on the South Front boundary and improvements to CCTV and lighting. Following a review of the long-term use of the buildings, one of the buildings will be refurbished and the other demolished to make space for more flexible-use community buildings in the future. The work is being carried out in partnership with the OPCC, Southampton Safe City Partnership, GO! Southampton and other important community partners.
Read more information about the Safer Streets Funding