Poppy presentation marks start of annual appeal in Southampton
The Right Worshipful The Mayor of Southampton, Councillor Peter Baillie, has been presented with the first poppy to mark the start of the annual Poppy Appeal in Southampton.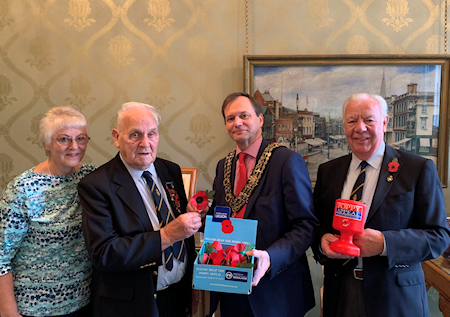 The Mayor was presented with the poppy by Archie Parsons, Secretary of the Royal British Legion in Southampton, and Tom McInery and Sarah Parsons, Branch Secretaries of the Royal British Legion in Southampton. This year, the charity's Poppy Appeal is aiming to raise over £50 million across the UK to help support serving and ex-serving members of the Armed Forces community and their families.
To help Southampton residents pay tribute to members of armed forces past and present, remembrance events will be taking place in the city, including a special service and parade at Southampton Cenotaph on Sunday 10 November from 10.55am.
Speaking at the presentation of the poppy, the Mayor said: "It's a real privilege to kick-start this year's poppy appeal here in Southampton. We owe our current and former members of the armed forces an enormous debt of gratitude and that's why it's so important to support them. I'm pleased to support such a worthy cause and I have no doubt that people across the city will support the appeal with their customary generosity."
Archie Parsons said: "All of us at the Royal British Legion are extremely grateful to the citizens of Southampton for the very generous donations they make every year towards to Poppy Appeal. Last year we collected a magnificent sum of £100, 000 in our area of the city which would not be possible without the support of our band of loyal volunteer collectors which includes the youngsters from the Army and Sea Cadets Corps. All monies raised help our welfare sections provide various forms of support - financial or otherwise - to current and ex-service personnel and their families. Sincere thanks to everybody who helps and supports this wonderful charity every year."
For more information about the Southampton Remembrance Service and Parade visit https://visitsouthampton.co.uk/events/southampton-remembrance-sunday-service-and-parade
Photo: (l-r) Sue Parsons, Tom McInery, The Mayor of Southampton and Archie Parsons