Southampton City Council awarded Gold for commitment to the Armed Forces Community
Southampton City Council amongst the most supportive organisations for Britain's Armed Forces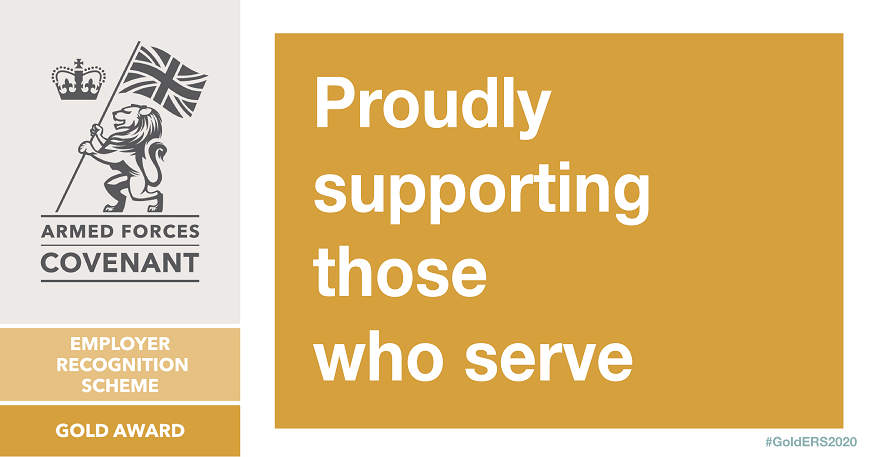 This week Southampton City Council was announced amongst the most supportive organisations for Britain's Armed Forces, by receiving The Employer Recognition Scheme Gold Award, the highest award achievable for an organisation.
To win a Gold Award, organisations must demonstrate that they provide ten extra paid days leave for Reservists and have supportive HR policies in place for Veterans, Reserves, Cadet Force Adult Volunteers and Spouses and Partners of those serving in the Armed Forces. They also advocate the benefits of supporting those within the Armed Forces community encouraging others to sign the Armed Forces Covenant and to engage in the Employer Recognition Scheme.
The above photo was taken before social distancing restrictions.
The Council signed up to the Armed Forces Covenant in June 2013, which aims to promote mutual support between Southampton's civilian community and its local Armed Forces community, both past and present. The purpose of the Covenant is to advocate for the Armed Forces population who work and reside in the city, recognising the sacrifices made by Servicemen and women and their families.
Since signing up to the Covenant the council has worked in partnership with staff, members of the Armed Forces and local organisations, to ensure the Covenant is upheld. This has involved refining our policies, setting up an Armed Forces staff network, promoting reserving and marking events within the armed forces community calendar such as remembrance events and awareness days or weeks.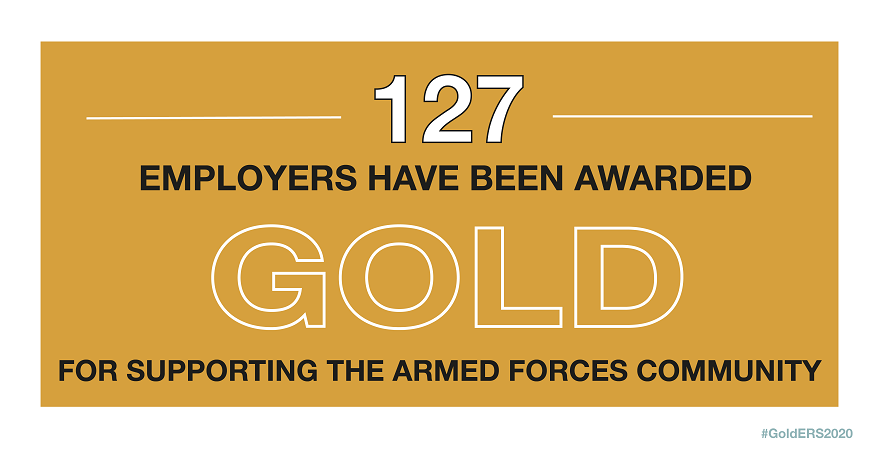 2020 marks the seventh year of the awards scheme and this year's 127 award winners join a group of 226 winners from previous years bringing the total to 353 organisations who can share their knowledge and experience on the benefits of employing those from the Armed Forces community. Councillor Satvir Kaur, Cabinet Member for Homes and Culture, said: "As an administration we were proud to sign up to the Armed Forces Covenant and it's great the city's contribution and efforts to support those serving has been recognised through this Gold Award announcement. Thank you to everyone that continues to play their part and make this possible."
Councillor Catherine McEwing, who champions support for the Armed Forces Covenant at Southampton City Council, said: "It fills me with great pride to have earned the Gold Award as part of the MoD's Employer Recognition scheme and thank you to all those at the council who has worked hard to achieve it. I would encourage other employers in the city to sign the Covenant and show their support."
For more information and support for the armed forces community visit: www.southampton.gov.uk/armed-forces-support
Local support for veterans and the armed forces community can be found here:
Solent Armed Forces Covenant - Bringing together four local authorities (Southampton City Council, Portsmouth City Council, Gosport Borough Council and Isle of Wight Council), local health services, local military, voluntary sector and business partners. The Armed Forces Covenant is a promise that those who serve or have served in the British military and their families will not be disadvantaged by their service
Veterans' drop-ins - There are drop-in centres across the region offering advice and information to armed forces veterans and their families. They provide social support and access to a range of welfare and mental health services. They are open to former members of the British Armed Forces and Reserves and their direct family members, including the Royal Fleet Auxillary and the Merchant Navy. Support is available at Southampton Drop-in-Centre every Monday, Wednesday and Friday afternoon, 2pm-9pm. Contact: 023 8044 6032
Armed Forces and Veterans Breakfast Clubs - The Snack Shack, Obelisk Road Woolston - Tuesday, Thursday and Saturdays 10am-12noon. Contact: 023 80444463
Veterans Gateway - is a single point of contact for veterans seeking support with their 24-hour helpline. Many of their team are veterans themselves so they understand the issues that people face after leaving the Armed Forces. They work with people on a one-to-one basis, connecting them with the right support as soon as possible. Telephone: 0808 802 1212 Text: 81212
Defence Discount Privilege Card - Defence Discount Service provides those in the Armed Forces, Veterans and the Defence Community with discounts both online and in store