Southampton City Council funds ten schools to ensure no child goes hungry
Free fruit, vegetables and yoghurt to schoolchildren up to the age of 11 years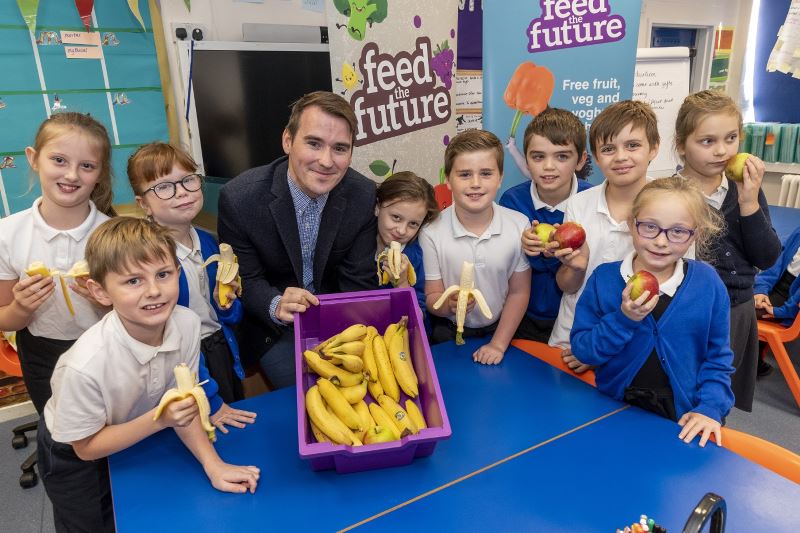 Food poverty is increasing and this has the biggest impact on our children. Southampton City Council has made a commitment to ensure that no child goes hungry so that they have the best chance in life.
As the new school term gets underway, Southampton City Council is launching a pilot scheme to provide free fruit, vegetables and yoghurt to schoolchildren up to the age of 11 years. Over two thousand children attending ten schools across the city are expected to benefit from the council-funded scheme. Called Feed the Future, the pilot will run in partnership with the charity, FareShare, for the duration of the academic year with future budgets set to provide long-term funding.
From September, pupils at Weston Park, Shirley Warren, Newlands, Mansbridge Primary, Redbridge and Swaythling Primary schools will all be receiving produce as part of the Feed the Future scheme. By the end of October, Thornhill, Valentine, Wordsworth and Hightown Primary Schools will join the scheme.
Speaking at a visit to Weston Park Primary School, Councillor Christopher Hammond, Leader of Southampton City Council, said: "No child should be sitting in lessons, unable to learn and open their minds because they're hungry. Sadly, this is happening every day and it's an injustice and a barrier to a good education. This Council will take action to stop this happening. With Feed the Future, we are prioritising action to end childhood hunger in Southampton, support families struggling to make ends meet, and promote the best education that Southampton can provide. This is the start of our aspiration to eliminate Child Hunger in Southampton by 2025."
James Wiltshire, Headteacher at Weston Park Primary School, remarked: "We are really excited about Councillor Hammond's visit to the school today. Our children are all really looking forward to receiving a variety of fruit, vegetables and yoghurt through the Feed the Future campaign and I am sure it will prompt some healthy discussions on the importance of good nutrition."
Swaythling Primary School pupils have been receiving a piece of fruit, vegetable and yoghurt since the beginning of the school term. John Draper, Headteacher at the school, commented: "We are really pleased to be taking part in the Feed the Future pilot this year. The food is very good quality and varied. The children are really excited to be receiving a piece of fruit, veg or a yoghurt every day. We are using the pilot scheme as an opportunity to continue talking to pupils about the importance of good nutrition and regular exercise."
Claire Martin, Development Manager at FareShare Southern Central, commented: "As Hampshire's surplus food redistributor, it is great to be working with Southampton City Council and ten schools across the city to address child hunger and malnutrition on a meaningful level. We can achieve so much more by working together in creative ways to give children the best start in life."