Improvements to Bedford Place and Carlton Place start this week
Southampton City Council and their highways partners Balfour Beatty Living Places have started work on a package of transport and greening improvements for Bedford Place and Carlton Place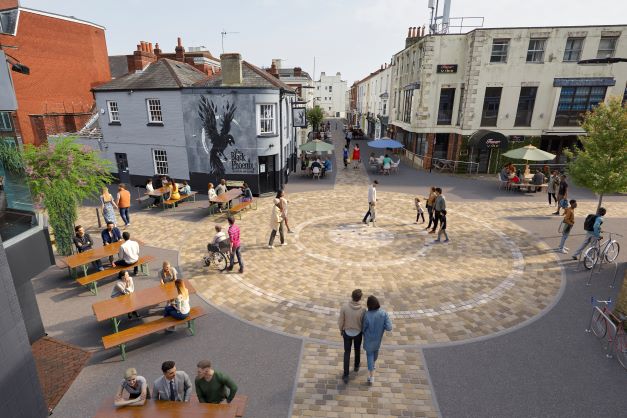 The measures will enhance the area for everyone and showcase it as a shopping and hospitality destination. The works began on January 9 and aim to be completed by 14 April 2023.
On Carlton Place there will be defined areas for hospitality providers to offer outdoor tables and seating, enhanced with an open, piazza-style area in the centre of the junction of Carlton Place and Lower Bannister Street. The open space will be suitable for pop up events and markets, with a level surface throughout to make the area more accessible for everyone, upgraded CCTV and lighting to improve night-time visibility.
Bedford Place will have a widened, curved pavement area at the junction with Carlton Place. This will become an attractive, accessible public area, with the addition of trellis structures for climbing plants, and seating. The temporary hospitality area on Bedford Place, outside Beards and Boards, will be replaced with a permanent buildout, and designated areas for loading and parking for people with disabilities will be provided. Areas of the carriageway along Bedford Place will be narrowed to slow vehicles and improve safety along the road. This will complement the recently introduced 20mph speed limit now in place across the Polygon area.
Caroline French, Managing Director of W. J. French & Son comments:
"The curved buildout onto Bedford Place will hopefully make a big difference in reducing the speed of cars and increase safety for pedestrians. This, and the improvements to Carlton Place pedestrianised area, will make it a destination for people to enjoy the unique independent shops, bars and restaurants located here."
Councillor Keogh, Cabinet Member for Transport and District Regeneration comments:
"Our transport and public realm officers have been working closely with Bedford Place and Carlton Place residents and businesses to develop plans for improving the area. In the recent public consultation on the proposed designs, over 89% of respondents agreed they will make the area feel safer, benefit the local environment and make it more accessible for disabled people and people with mobility issues. I am sure that local businesses, residents and visitors to this unique area will benefit enormously from the investment."
More information about the Carlton Place and Bedford Place scheme can be found at Connecting Southampton along with a summary of the consultation results and a set of FAQs designed to provide more information for residents and local businesses about disruption during the works.