UEFA Women's EURO 2022 Legacy Programme Community Briefings
Southampton is excited to welcome the UEFA Women's EURO 2022 football tournament to the city next year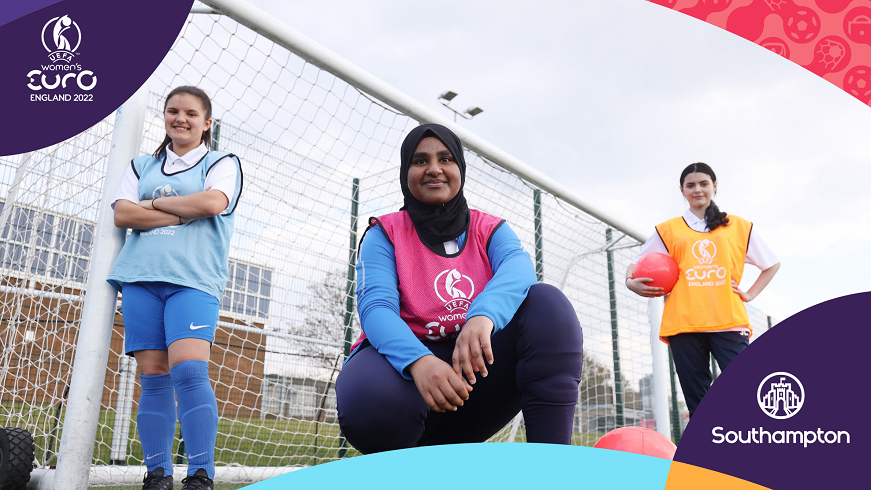 With the city of Southampton selected as a host city and three games being played here, this brings a great opportunity to ensure that the local area benefits from a spectacular event, but also that women's and girls' football benefits at a local, grassroots level for years to come with a lasting legacy. A major ticketing roadmap and legacy programme has already been unveiled.
As part of the legacy Southampton will launch clear and accessible opportunities and programmes for women and girls to play football where and how they wish - and progress if they wish to. The Playmaker Award will be promoted to encourage women to take a first step in coaching football, and off the pitch, an increased number of FA-qualified female coaches and referees will be deployed where they are most needed to support the growth of the game for women and girls.
These pledges will lead to 50 primary and secondary schools offering equal access to football for girls in PE lessons by 2022. Double the number of FA-qualified female coaches and referees will officiate on the pitch, with 500 more women playing football in Southampton's most deprived wards by creating sustainable recreational football opportunities.
Get involved
If you are a grass roots football club, community organisation, school or youth service together with the Hampshire FA we would like to invite you to an online community briefing to hear about and discuss the exciting opportunities offered by next year's tournament. This is a great opportunity to find out how you can get involved and what this means for you and your team, club or organisation.
The briefing can be accessed here:
Tuesday 6th July, 6.15pm - 7.45pm, which is one year to go until the start of the tournament.
https://zoom.us/j/98406197706?pwd=L3M1WjllUkxrV1JmbnllVDIvcjdsQT09
Passcode: 742969 
The first chance supporters will have to apply for tickets for the UEFA Women's EURO 2022 tournament is on 13 July 2021, via the Pre-Sale, presented by Visa. To ensure this priority access, fans can register their interest now at UEFA.com.