Unique castle themed play area opens at Daisy Dip
Work is now complete on the Daisy Dip play area in Swaythling ready for spring and summer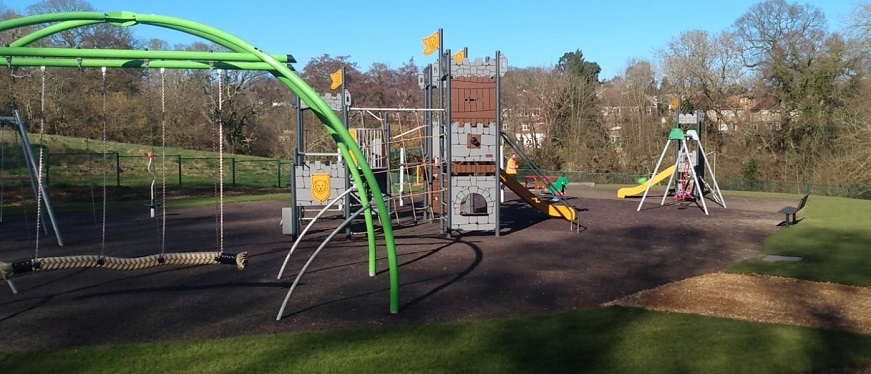 Work is now complete on the Daisy Dip play area in Swaythling ready for spring and summer.
The project, part of Southampton City Council's £1.2m investment to play areas and open spaces, was delivered by Southampton City Council's City Services team in partnership with local contractors, includes the installation of a new castle themed play area surrounded by a wildflower seeded moat with improved drainage to create an improved space for families to spend time outside together, and be active.
The castle theme, chosen by the Friends of Daisy Dip and the local community, has a selection of equipment perfect for all ages, such as; a four-tower castle, castle gatehouse & steel slide, various swings, parkour, springers and a seesaw. The new rubber surface will make it useable all year round – whatever the weather.
Much of the build supported Southampton City Council's city-wide waste reduction and recycling initiative in order to minimise waste and recycle where possible including:
1400 tons of the existing soil was used to form the new shape, with no soil sent to landfill
52 tons of soil was recycled from excavation work at Hoglands Park where City Services are constructing a new Multi Use Games Area
Existing fencing and gates were repaired and reused
Steel from the previous equipment was recycled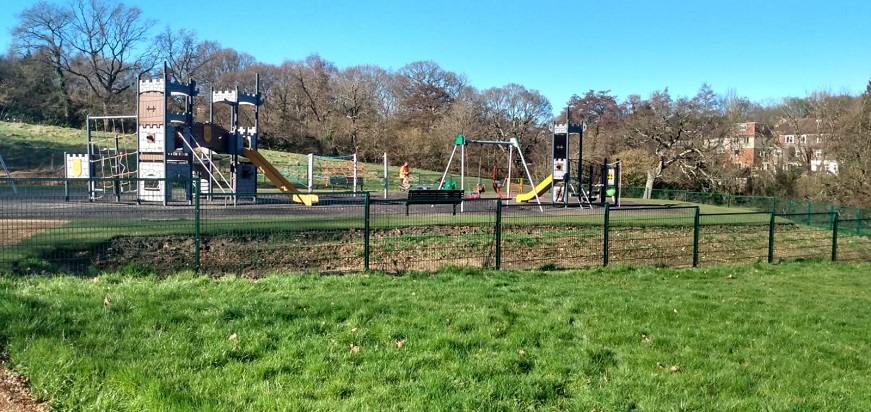 Councillor Steve Leggett, Cabinet Member for Green City & Place comments: "With its unique castle themed design, and wildflower moats, the play area at Daisy Dip has had an amazing transformation. With thanks to our City Services team the play area has been constructed with a site waste management plan that made the best use of resources, minimised waste and repaired, reused and recycled where possible. Thank you to the Friends of Daisy Dip Group for raising a significant additional amount of funding for the play area and for playing such an active role on this project. Daisy Dip is a key asset for the area, and we hope residents will enjoy this new play area for many years to come."
The specification for the improvements was put together following close consultation with the local community and the active Friends of Daisy Dip group. The cost of the project was £91,665, made up of parks improvements capital and a grant awarded to the Friends group which includes making further improvements to the area.
The Friends of Daisy Dip Group comments: "Friends of Daisy Dip are thrilled with the new play park and we are so happy to see it open for the public to use. We are really thankful for the close relationship we've formed with the local council, and appreciate them working with us to make this new play park happen. We would also like to thank Pocket Parks for awarding us the initial £20,000 funding, which kick started the project.
"We are also incredibly proud to be part of and supported by our local community. Not only have we had huge support from them, but many individuals and local businesses also contributed financially when we fundraised, enabling us to secure another grant from Veolia of over £68,000. This has been awarded to make further improvements to Daisy Dip, which will include a nature play trail. We are really looking forward to partnering with Southampton City Council for these next improvements."