New community green space in the heart of Townhill Park – Townhill Green
As part of the regeneration of Townhill Park, we are also delivering a new green space for the community and general public.
The creation of Townhill Green is funded through a £3.75M Homes England grant and forms part of the infrastructure improvements for the regeneration of Townhill Park. The regeneration of Townhill Park is also providing funding to improve the access and informal play facilities within Frogs Copse. This work will include improved paths, informal play structures, and improved signage within in the existing 7-hectare green space.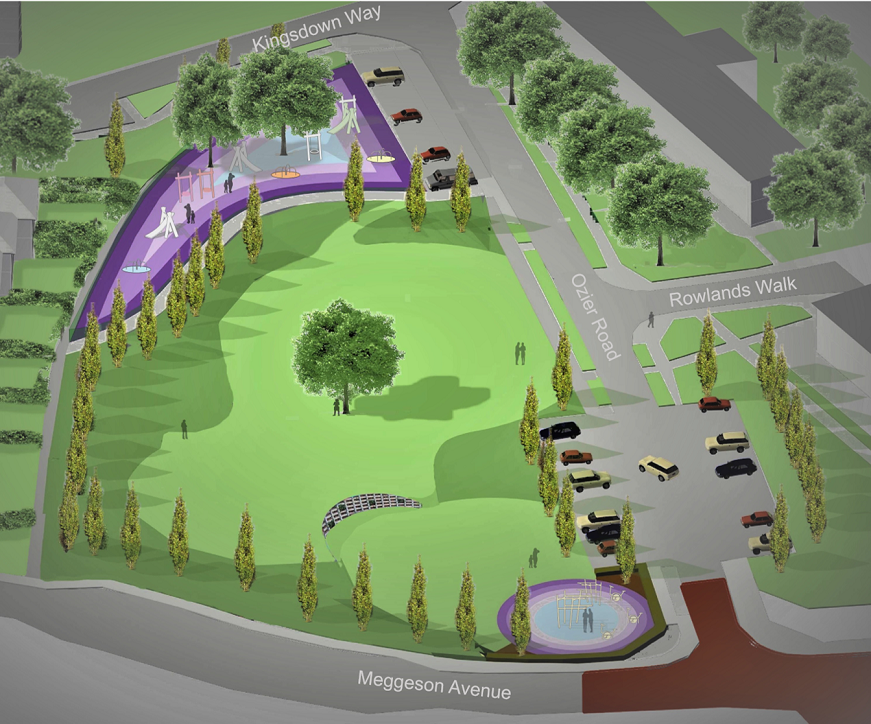 Key features of the site include
An inclusive outdoor play area for imaginative and socialising play
Outdoor gym suitable for all levels of fitness from gentle exercise through to a high intensity work out
Two community shelters for socialising and relaxation
A feature seating area
A large open space for recreational use and community events
A planted eco-wall to add colour and support wildlife
Accessible parking along Ozier Road
Provision for a concession stand along Ozier Road
Work to date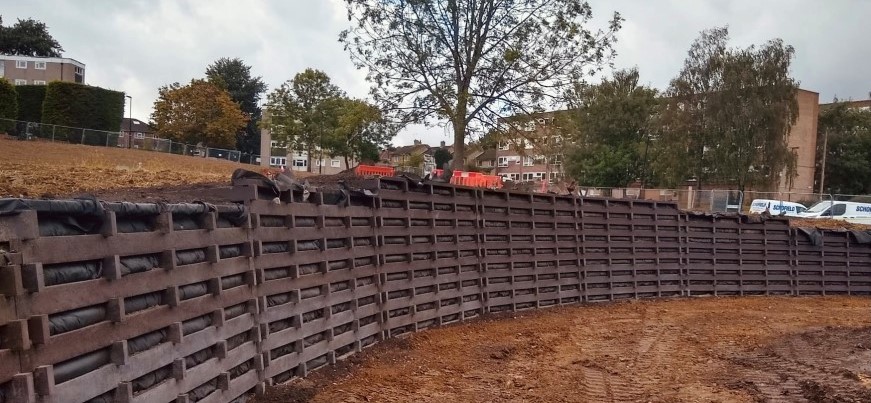 September 2021: The concrete feature seating has been constructed and is in place. Mosaic designs are being developed by the local community with SO18 Big Local and a local mosaic artist and will cover the benches displaying the communities work.
The crib wall is now installed and will be planted Autumn/Winter to complete it. Crib walls are formed from interlocking precast units that are built up to form a series of hollow boxes. Those boxes are filled which creates a retaining wall.
Work to install the new children's play area and adult outdoor gym will start in the coming months once procurement of the equipment has been completed. Currently around the gym area, kerb stones are being added which will create the border for the initial surfacing material to be laid. Bins and benches will also be going in over the next couple of months.
Community engagement
From 16 November to 13 December 2020, local residents of Townhill Park were invited to have their say on the new community green space by completing an online survey. Key topics included the location of the outdoor exercise area, location of the children's play area, the overall layout and the name of the new green space. We received 191 responses in total with 85% in favour of the proposed layout and 68% choosing 'Townhill Green' as the name.
Following this initial survey, we have been engaging with the local community in more detail on specific areas of the new green space through online questionnaires, work with Townhill Junior School and a private Facebook group where members can take part in polls and ask questions. These questionnaires and social media polls are now closed.
If you're a local resident of Townhill Park you can join the private Facebook group.
To contact us about any aspect of this project please email townhillgreenproject@southampton.gov.uk or call 02380 671 921.