Marriage or civil partnership?
!
Important
There are changes to this service due to COVID-19. Check the latest updates.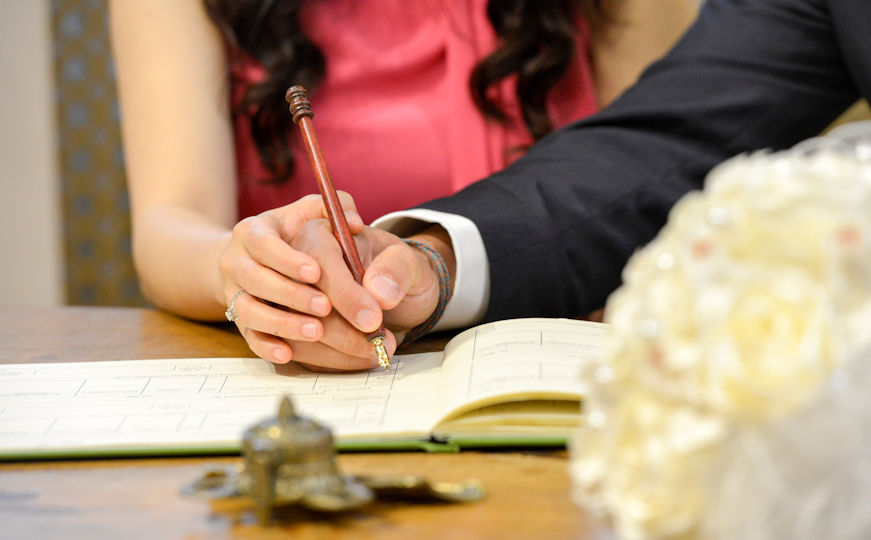 Marriage or civil partnership... you decide
Choosing if you would like a marriage or civil partnership will be your first consideration.
A marriage ceremony means that you will need to say certain vows when you solemnize your marriage.
A civil partnership ceremony means that you do not have to say any vows to each other. Some couples prefer this route if they wish to keep the legalities more administrative and straightforward. Civil partnerships are now for opposite sex couples as well as same sex couples, with the first civil partnership taking place on 31 December 2019.
For more information about the differences between marriage and civil partnership please visit GOV.UK
The legal requirements are the same as for marriage; both parties must not already be in a civil partnership or marriage, must be aged 16 or over and not related to each other.
Where can I hold my ceremony?
A marriage or civil partnership ceremony can be held in the beautiful Westgate Hall, The Golden Jubilee Room or any licensed venue across Southampton.
Can I add personal touches to my ceremony?
Your ceremony can be embellished to include many of the traditions you are used to seeing. If you choose to have a grander ceremony, you can make promises to each other and exchange rings with your family and friends present. Many couples like to enhance their ceremony with readings and music and enjoy having the flexibility to make their ceremony their own.
Civil partnerships for mixed sex couples
Did you know that civil partnerships are now for opposite sex couples as well as same sex couples? The first opposite sex civil partnership took place in Southampton on 31 December 2019.
Please contact the ceremonies team on 023 8091 5327 or by email using our get in touch form.
Find out more about converting your Civil Partnership into a marriage