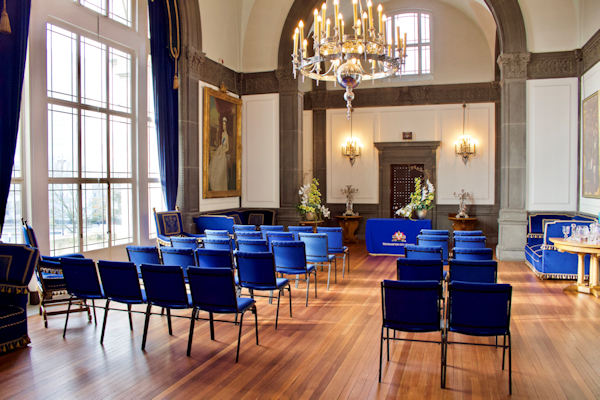 Welcome to The Mayor's Parlour! With its high ceilings, polished wooden floors and historic artefacts there is no doubt that this ceremony venue offers something truly spectacular. The magnificent high window floods the room with light making it a perfect setting for your special moment. Afterwards, you can enjoy posing for your photographs on the stunning sweeping staircase – the balcony offering a truly regal setting!
The Mayor's Parlour seats 50 guests, not including the couple. The layout is theatre style which creates a beautiful long aisle to walk down. You will be able to make your entrance with real impact in a room which has seen many visiting dignitaries received by The Mayor.
The Mayor's Parlour is in an enviable position sitting beautifully in the Civic Centre. Found in the heart of the city, The Civic Centre is one of the most iconic buildings Southampton has to offer. There are many practical reasons to choose The Mayor's Parlour (good transport links and parking), however it will be the beauty of the building that really impresses you.