Technology driving the city's skills revolution
Increased demand from employers for 'work ready' talent has led Southampton City Council to trial an innovative solution that seeks to boost the supply of skilled residents competing for jobs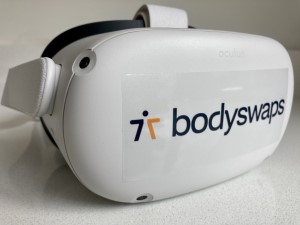 Bodyswaps is the first of a suite of projects under the council's Future of Work programme, which aims to help residents and businesses respond to the challenge of increased digitisation. Bodyswaps uses the latest technology to empower learners to practise and develop their soft skills through empathy and self-reflection with access to a suite of immersive simulations on communication, teamwork, leadership, and job interview skills.
Over the next six months and through a network of local organisations, learners will have unlimited access to the Bodyswaps platform with support from employability professionals to help secure a job, an apprenticeship, or another work-related outcome. Feedback from learners will help adapt the delivery of the Bodyswaps project and shape future employment support projects in the city.
Sajid Butt, Strategic Skills Manager at Southampton City Council, said: "It's vital we have a range of support available to help residents – of all ages and backgrounds – acquire the skills employers are looking for. We're delighted to be working with Bodyswaps to bring new ways of accelerating resident access to jobs generated across the city whilst demonstrating the benefits that smart use of technology can bring. We want an inclusive, revolutionary approach to delivering on the skills agenda as we pursue our growth ambitions for the city."
Alex Scott, Principal at Itchen College and a local partner in the Bodyswaps project said: "Itchen College believes in raising aspirations, improving life chances, and developing social mobility across the communities in which we work. We are constantly seeking new ways of engaging our learners and the Bodyswaps project provides us with a creative approach to the changing world of work that meets the needs of our young people and enables adults to develop the skills needed to achieve rewarding careers and fulfilling lives."
Chris Mallet, CEO and Co-Founder of Bodyswaps said: "A good CV will get a candidate an interview but ultimately it's the soft skills that will get them the job, and a fulfilling career after that. At Bodyswaps we believe that we can use Virtual Reality and Artificial Intelligence to provide everyone with a safe space in which to grow their skills and get a fair chance at getting the professional success they deserve. By partnering with Southampton City Council, we will demonstrate that local authorities can leverage new education technologies to make a real difference to people's lives – fast and at scale."