The Summer Reading Challenge has finished for 2021, it will be back in summer 2022.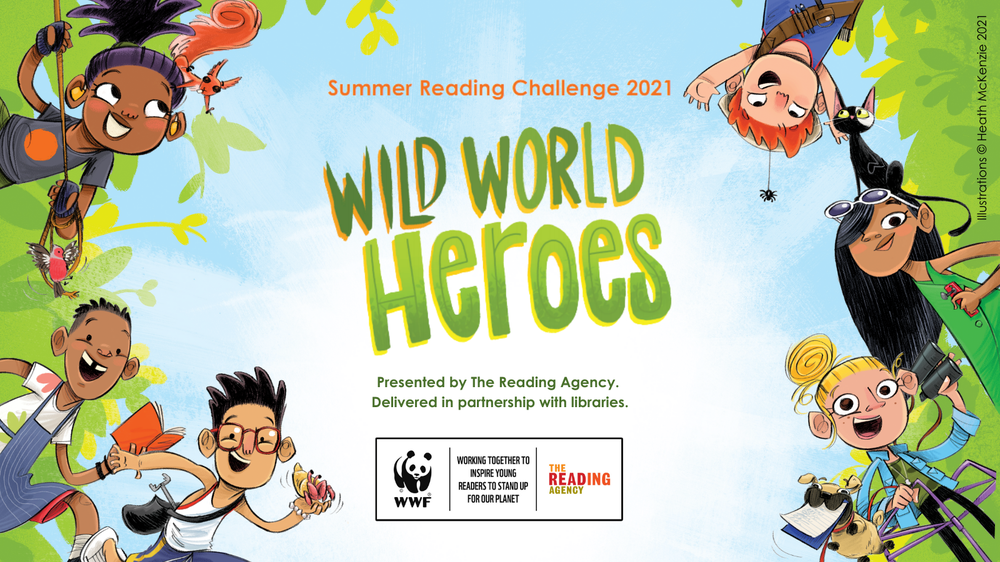 Wild World Heroes: Summer Reading Challenge 2021 
The Wild World Heroes are coming to a library near you! This year, children in Southampton can visit their local library and pick up their Wild World Heroes Collectors pack - come and see us, we can't wait to see you this summer!
We're teaming up with World Wide Fund for Nature (WWF) for a very special nature-themed challenge that will inspire you to stand up for the planet! Our Wild World Heroes live in Wilderville, a pretty cool place, but there are lots of things that the Wild World Heroes can do to make their town even better for the people and animals that live there.
Everything you need to know!
Wild World Heroes will launch in all our libraries on Saturday 10 July 2021 and run until Saturday 25 September 2021.
It is open to ALL children, completely free of charge. Simply visit your local library and pick up your Wild World Heroes Collectors folder and stickers in a pack. Then when you've read or shared 6 books you can pick up a second celebration pack which includes your certificate and medal!
Keep up to date with this year's challenge by following us on social media, @SouthamptonCityLibraries on Facebook and @SotonLibraries on Twitter.
What books do we need to read?
Children can read ANY book of their choice; fiction, non-fiction, picture books or books they share with parents and carers, they can also listen to audiobooks, they all count! Very young children can pick up a golden sticker when they've completed their challenge too.
Can we join online?
If you'd prefer not to come into the library - you can sign up for the Summer Reading Challenge online, where you will be able to collect virtual stickers and goodies alongside keeping track of what you've read. Parents/guarantors will need an email address to allow children to register for the challenge.
The challenge running in Southampton libraries is not linked to the online challenge, this is hosted and registered by the Reading Agency, so if you would like the real life goodies and a shiny gold medal for reading 6 books – you will have to register with us, in a Southampton library!