New Living Wall set to be installed on Millbrook Roundabout is first of its kind in UK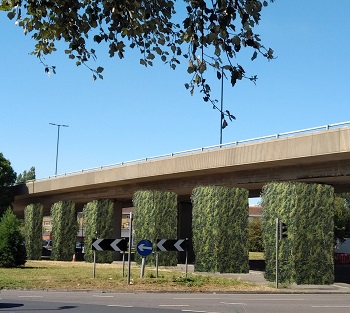 Southampton City Council, with its Highways Partner Balfour Beatty, has begun work to transform the newly reconstructed Millbrook Roundabout into a greener, cleaner environment with a new Living Wall made up of green planting.
Work on what will be the first Living Wall of its kind on the UK's major road network is already underway and is scheduled to complete by October this year. The works will be taking place off the carriageway meaning no disruption to travel. New Living Wall set to be installed on Millbrook Roundabout is first of its kind in UK
Living Walls Explained
The new Living Walls are supplied by Biotecture, a specialist in the design, supply, installation and maintenance of sustainable living walls and green infrastructure. The walls will take the form of ten green columns which will appear to support the flyover. The plants will sit on free-standing frames away from the columns, meaning the structure is not affected.
The plants are nurtured through their early growth stage in greenhouses which means they are fully developed and green at the point of installation. They are robust enough to thrive in the UK climate with 95% coverage all year round. The species have also been selected for their beneficial effect in providing habitats for wildlife and maintaining biodiversity.
The Living Wall is designed to be sustainable, easy to access and easy to maintain. The frames have an integrated irrigation system which uses sensors that maximise efficiency and minimise water waste.
Pollution-eating plants
It is widely accepted that placing vegetation within urban areas has a significant effect on air quality. During photosynthesis plants absorb CO2 and other gases such as SO2 (Sulfur Dioxide) and NO2 (Nitrogen Dioxide), ozone and airborne ammonia through their leaves. They also act as sinks to reduce the concentration of particulate matter in the local atmosphere.
Living Walls are an attractive and healthy way to improve the public realm. They have been installed successfully in places such as the Edgware Road Underground Station in London, the Apple Store in San Francisco and the Burj Khalifa in Dubai. The new walls will be an attractive addition to improve the look and feel of this major route into Southampton.
The Living Wall installation is being funded from efficiency savings made as part of the main £8.3m Millbrook Roundabout reconstruction scheme which completed earlier this year.
Cllr Jacqui Rayment, Cabinet Member for Transport and Place, commented:
"We have committed to making Southampton a clean, green, sustainable and successful city through our Green City Charter. The Living Wall project at Millbrook Roundabout is the first of its kind in the UK. It's an exciting way to make our public spaces more attractive whilst at the same time having a beneficial effect on the environment. Investing in greening projects like this will play an important part in safeguarding our local environment for future generations."
Richard Sabin, Managing Director of Biotecture, said:
"Yet to be seen on the UK road network, the Millbrook green columns are evocative of the Via Verde highway pillars in Mexico City, and they'll help with air pollution reduction. We are very excited to be work on this flagship scheme in Southampton."
Balfour Beatty Living Places Managing Director, Steve Helliwell, said:
"We are incredibly proud to be working with Southampton City Council and Biotecture on this flagship project – a first in the UK. This is a project which has the potential to transform the way we sustainably deliver highways schemes across the industry.

"Sustainability is at the heart of what we do and in the solutions we provide to our customers. Through this project, we will not only improve air quality for local residents but improve the aesthetic of the roundabout for the travelling public and the wider community in Southampton."
The Living Wall complements the newly completed SCN1 Western Cycle Freeway which runs from Totton, past Millbrook Roundabout, right into the City Centre. It provides safe, consistent and high-quality cycleways for people cycling along this route.
You can find out more about the SCN1
You can find out more about the Green City Charter