Street lighting in Southampton
Street lighting in Southampton is maintained as part of a contract between Southampton City Council and Tay Valley Lighting, with services delivered by SSE Enterprise (SSE).
The 25-year Street Lighting Private Finance Initiative (PFI) was signed in 2010.
The first five years of the contract involved the upgrade of the council's street lights using the latest technology. This:

Provides essential energy savings
Minimises light pollution
Reduces the overall number of street lights across the city to provide a more sustainable system for the future

For the remaining 20 years of the contract, the focus is on maintaining and operating the city council's lights to a very high standard and looking at future innovation (for example LED technology)
---
Damaged or faulty street lights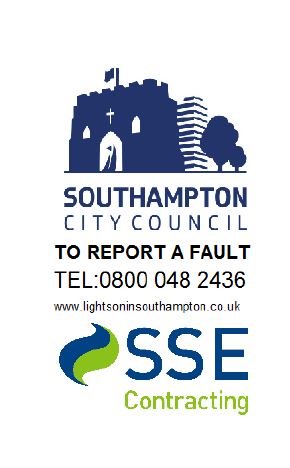 If you see a council street light which is damaged or not working, you can report it online via the SSE portal.
If the street light is the responsibility of the council, it should have the identification label, pictured to the right, attached to it.
Please note that not all street lights in the city are under the control of the council's PFI contract, some are privately owned and maintained.
If you have issues with street lights and they do not display a SSE PFI identification label, please contact the owner directly - details should be displayed on the column.