Guide to completing your Notes for Ceremony form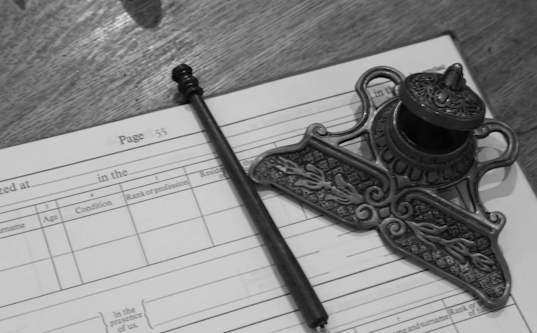 Notes for ceremony – marriage
Fill in the form to complete your notes for ceremony for a marriage, there are explanations of the information to provide below. 
!
Before you fill in this form
You won't be able to save this form to complete later, so please allow yourself up to 10 minutes to fill in the form.
Notes for ceremony – civil partnership
Fill in the form to complete your notes for ceremony for a civil partnership, there are explanations of the information to provide below. 
!
Before you fill in this form
You won't be able to save this form to complete later, so please allow yourself up to 10 minutes to fill in the form.
Contact telephone number and email address
Please provide up to date daytime contact details so we can contact you should we have any queries regarding your choices
Names
Please provide your full names. These will be used for the legal vows and declarations. Any informal names may be used for the rest of the ceremony.
Venue
Please choose your venue from the dropdown list.
Ceremony date and time
Please complete this with the date and time that is shown on your original booking form
Number of guests
The number of guests forms part of the licence and cannot exceed this. Venue capacity information is available on our Ceremony venues pages.
Bestman/woman
Please provide their name(s) if you are having one or more.
Witnesses
You are legally required to provide two credible witnesses. They must both be able to understand the nature and purpose of the ceremony should they be called upon in a court of law to do so at any later date. If the witnesses cannot speak or understand English please contact us immediately. Family members can be witnesses. The witnesses will be asked to sit near the front so that they can clearly hear the exchange of the words of the declaration and contract said by the couple. Please note that registration staff are unable to act as witnesses and it is not always appropriate to approach other visitors to the Register Office. The witnesses will be asked to sign the register at the end of the ceremony.
Translator or assistance
If you were required to provide a translator or someone to assist you when you gave notice of marriage or civil partnership, you will need to bring someone to help you during your interview before the ceremony and for the ceremony itself. They will also be asked to witness the ceremony.
The interview
Please indicate whether you wish to see the registrar before the ceremony together or separately.
Ceremony entrance
Please indicate how you would like to enter the ceremony room. You may wish to walk in together, one of you with a family member, with your attendants or maybe you would prefer not to make a separate entrance to your guests and start the ceremony less formally. The choice is yours.
'Giving Away'
A longstanding tradition but entirely optional. Please let us know who will be giving you away and their relationship to you.
Attendants (such as bridesmaids and pageboys)
Please let us know how many attendants you have. This way we can make sure a sufficient amount of seats are reserved for them.
Marriage vows (for marriage only)
You are both required by law to say these words. You can choose from three options, but you must both make the same choice. These words are mandatory and cannot be altered. The registrar conducting your ceremony will say the words first and you will be asked in turn to repeat them.
Civil partnership vows (for civil partnership only)
You do not need to say any vows for a civil partnership, however it can be a really lovely part of the ceremony.
Civil partnership declaration (for civil partnership only)
You will not need to say the words of the legal declaration, but you will be asked to read through the statement before you sign.
Rings
There is no legal requirement to exchange rings. Should you decide to follow this time-honoured tradition, you can choose some additional vows to say to each other from the following options
Alternatively, you may wish to say a few words that you have written yourselves. They cannot contain any religious reference or link to any religious ceremony. These will need to be checked by the registrar at least one month prior to the ceremony. Please attach your words to this part of the form. Please also tell us who will be holding the rings or if you would like them on a ring cushion.
Music
There is the opportunity to personalize your ceremony by choosing some music to play at certain points in your ceremony. This is usually for the entrance, the signing of the register and as you leave the ceremony room. Your music should be suitable and non-religious.
For ceremonies in Bugle Street, please bring your chosen music on an iPod or similar device or CD on the day of the ceremony. You will need to arrange for one of your guests to operate your iPod or similar device.
For ceremonies taking place in one of our approved venues, please confirm any arrangements directly with the venue staff. Please indicate your chosen tracks on the form. You may also wish to have a musician playing. Please contact your ceremony venue to confirm these arrangements.
Readings
Your ceremony can be enhanced with one of your guests reading a poem or piece of prose. This should not be confused with a speech which is more suited to the reception afterwards.
Please indicate who will be doing the reading and where you would like it in the ceremony. You will need to submit the readings to us in advance for approval and they must not be of a religious nature.
Signing of the marriage paperwork or Civil Partnership Schedule
You will both be asked to check the entry and sign it with your usual signature. If you are changing your name, you will still need to sign the entry in your name as it was before the ceremony. Your two witnesses will then be required to sign the entry.
The end of the ceremony
The registrar will pronounce you to be married to each other.
Would you like to kiss or embrace each other at this point?
The registrar will present you with your certificate. How would you like us to introduce you as? e.g. Mr and Mrs Smith. Anything else you think we should know. Use this section to tell us anything that would help to make the ceremony run smoothly for you.