Southampton's medieval vault and building hire
Southampton has many medieval wine cellars hidden under the Old Town area. Currently, six of them can be hired for small scale events, such as exhibitions, filming and ghost hunts. On the High Street there are the spacious 94 High Street Vault, with its atmospheric lighting and graceful ribbed ceiling, and Lankester's Vault, which has an attractive Purbeck Stone floor. There is also the Undercroft on the corner of Simnel Street and Upper Bugle Street, which has stone windows providing both natural light and ventilation.
The Castle Vault on Western Esplanade, Weigh House Vault in French Street and the Vault under 11 St Michael's Square have now been added to the list, as well as the Weigh House itself.
Most of the vaults are at least 650 years old but thanks to their thick stone walls and skilfully vaulted ceilings they have survived many brutal attacks, regular rebuilding of the streets overhead and repeated bombing raids during the Second World War.
In order for the vaults retain their historical integrity for future generations, we have made only minor concessions to modern comforts! Access is sometimes down a narrow spiral staircase, ventilation can be limited, the floors uneven and there are no toilets. A visit before you book is essential.
For further information and booking enquiries, please contact Museums.Hire@southampton.gov.uk.
Castle Vault, Western Esplanade
The biggest, and one of the oldest, vaults in Southampton, built to store the King's wine at a time when the port was at the centre of the wine trade. Ships were able to offload the casks onto a quay directly outside the vault, as the water was very close to this section of the walls during the medieval period. It was built just behind the Castle Wall around 1180 and holes for the door and window were cut through the very thick wall. These allow some natural light into the space to supplement the electric lighting. During the Second World War the vault was used as a large air-raid shelter. You can still see traces of the blast walls that spanned the vault and the foundations for the entrance and toilets can be seen.
Feature
Details
Size
17m long x 6m wide. 4.80m high at highest point.
Services
Electric lights six sockets. Emergency lighting.
Access
Level access. Entrance opens straight onto pedestrianised area south of West Quay.

Double doors into vault are 1.35m wide at narrowest point. 1.50m to 2.10m high.

Low level lighting and some natural light. Floor very uneven and damp. Slippery in places.
Please note
Roof drips when it rains and for some time afterwards.
Weigh House Vault, next to the Weigh House, French Street
One of the best-preserved vaults in Southampton, possibly designed to be used as a shop. It is the only one to have stone benches built beneath its windows on to the street. The windows are now bricked up, but the rest of the vault is constructed out of skilfully dressed limestone blocks. Access is through the Weigh House, which is also available for hire.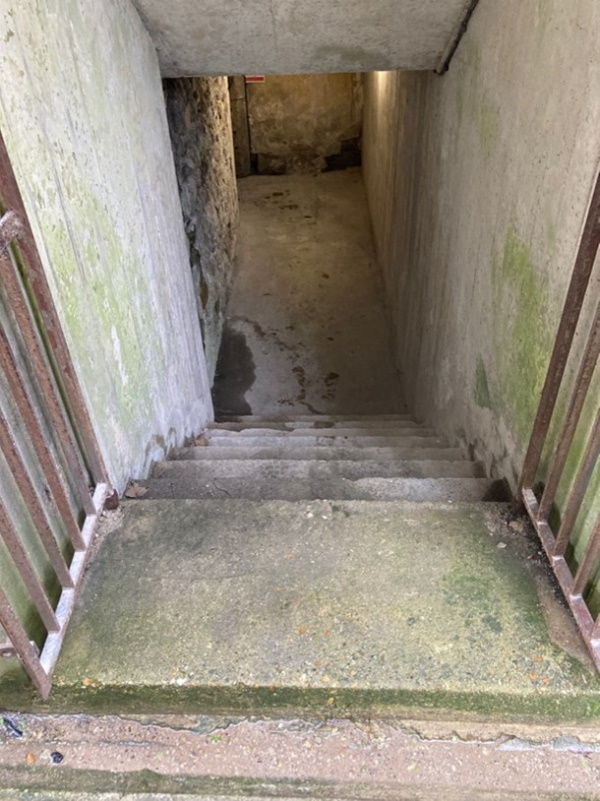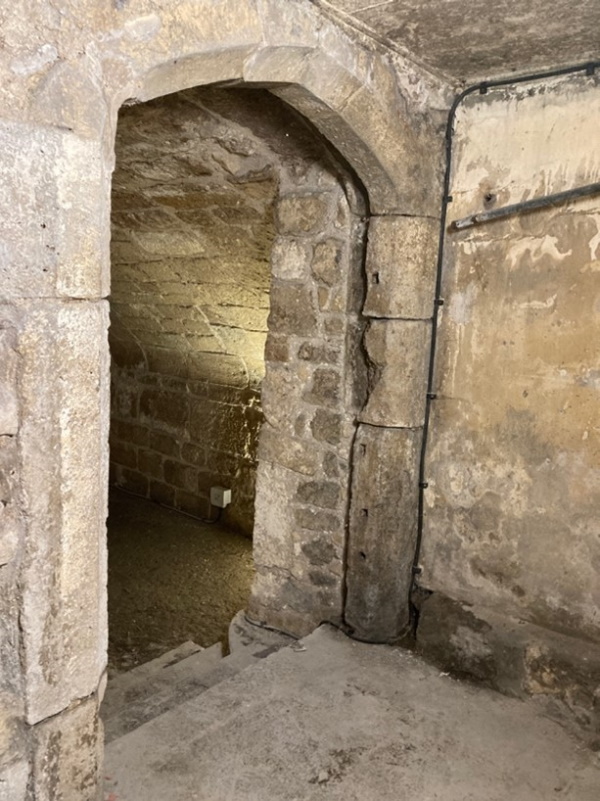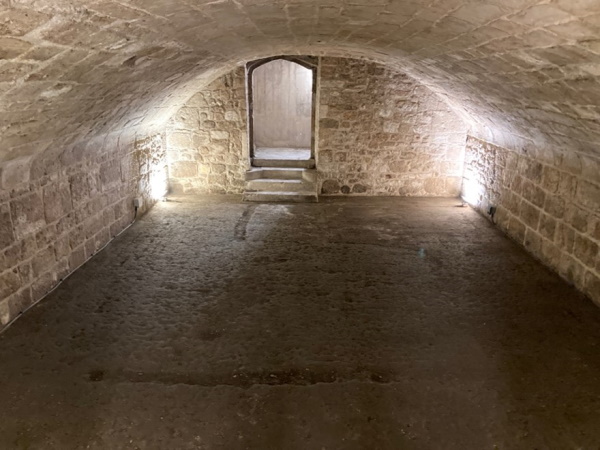 Feature
Details
Size
10.5m long x 5.5m wide. 2.6m high at highest point
Services
Electric lights and six sockets. Emergency lighting.
Access
Through Weigh House. Four steps down into Weigh House then a further 12 steps down into vault.

Narrow passageway to vault behind Weigh House. 1.20m wide at narrowest point.

Low level lighting.
Please note
Tarmac/beaten earth floor is usually damp but only small amounts of water drip from roof
Vault under 11 St Michael's Square, Simnel Street
New floodlighting has been installed in this vault creating a very special atmosphere. It is also dimmable, giving it extra flexibility for dramatic events.
Feature
Details
Size
14.6m long x 5m wide. 2.4m high at highest point
Services
Dimmable floodlights and two sockets. Emergency lighting. Level concrete floor
Access
From Simnel Street, across car park behind the Titanic Inn. Steps down into the vault with a handrail

The steps are 0.80m wide at narrowest point

There is an arch towards the bottom of the steps that limits headroom to 1.7m
Please note
The approach to the vault is next to some wheelie bins
94 High Street, beneath St John's School playground
Some say this vault was built about 1400, based on the door and widows, but these may not be original. It was probably built around 1350. It has a fireplace, which is unusual in a wine vault, where you would wish to keep it cool, and it shows no sign of soot. Perhaps a charcoal brazier stood here when important customers came to taste the wine in winter time.
| Feature | Details |
| --- | --- |
| Size | 18.1m x 6m. 2.3m high |
| Services | Electric lights and sockets. Emergency lighting |
| Access | Metal spiral staircase from High Street, then two stone steps |
| Please note | Tends to have a small puddle in one spot after heavy rain but can be sponged dry |
Lankester's Vault, on the corner of High Street and West Street
Lankester's Vault gets its name from the family who ran the ironworks behind Holyrood Church across the High Street. They leased the vault during the 19th century. It is built of Bembridge stone from the Isle of Wight. Many of the limestone blocks have Roman numerals carved into them to indicate the thickness of each block in inches. These blocks were probably reused from an earlier vault.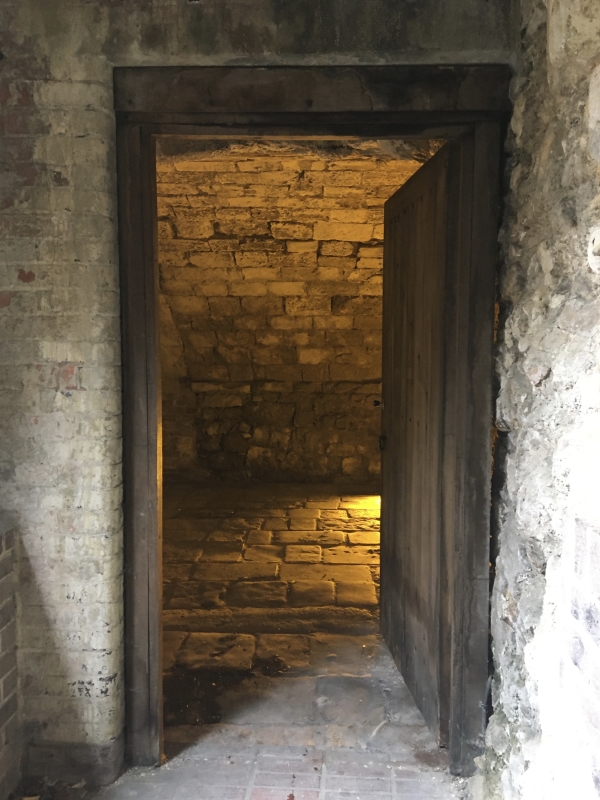 | Feature | Details |
| --- | --- |
| Size | 11.7m x 5.9m. 2.5m high |
| Services | Electric lights and sockets. Emergency lighting |
| Access | Modern flight of steps from ground level. Purbeck stone floor |
| Please note | Brick air-raid shelter entrance on west side 3 |
The Undercroft, Simnel Street
The Undercroft is particularly elaborate with its vaulted ceiling, carvings of human heads and large fireplace. Traces of paint have been found in some places so the whole interior was probably once richly painted. As the wine vaults acted as showrooms as well as stores, this might have been designed to impress prospective buyers. The wine was mostly sold wholesale to the butlers of the aristocracy who were sent to Southampton by their masters to buy a cask or two at a time.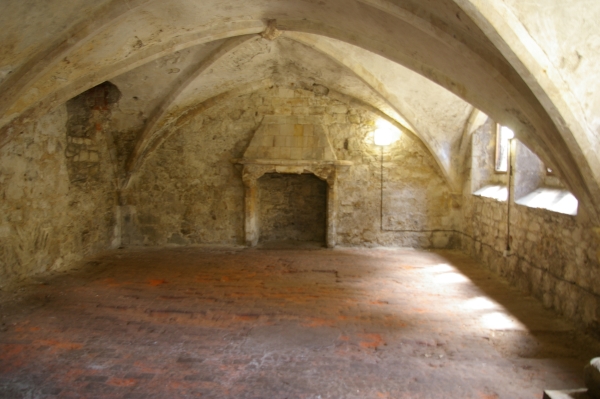 | Feature | Details |
| --- | --- |
| Size | 10.3m x 6.7m. 3.5m high |
| Services | Electric lights and sockets. Emergency lighting |
| Access | Two flights of stone steps from ground level, lower flight uneven. Uneven brick floor. Stone windows on south side let in some natural light |
| Please note | Private house above and sheltered housing nearby so no noisy events! Windows are not glazed so the vault is well ventilated |
Weigh House, French Street
The recently repaired remains of this important medieval building are also available for hire. Its roof was destroyed during the Southampton Blitz but several historic doorways and windows survived. It provides a sheltered spot in the heart of the Old Town for small scale cultural events.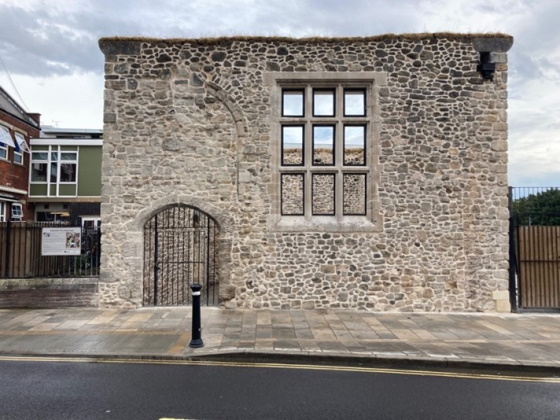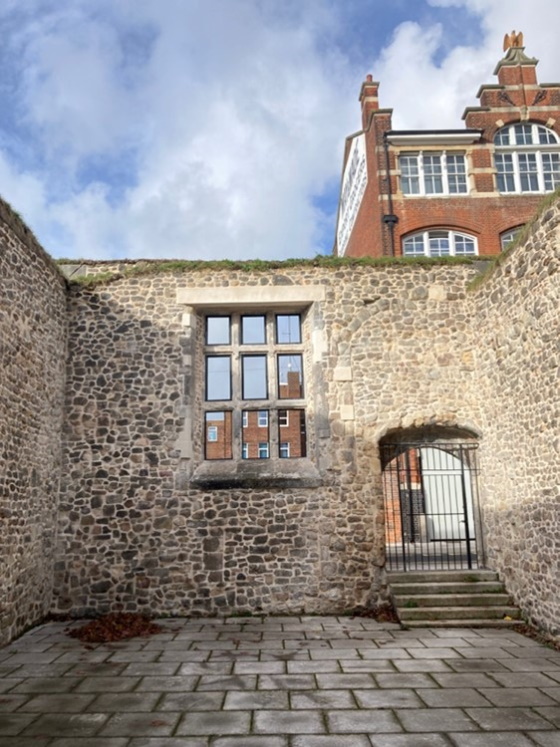 Feature
Details
Size
Internal dimensions 11m x 7m. Walls 6m high
Services
No lights, but six sockets available in neighbouring Weigh House Vault
Access
Four steps down from pavement level. Level paved floor

Entrance gate 1.76m high and 1.08m wide. Low head room
Please note
The Weigh House is open to the elements. There is no roof and the windows are not glazed
Protected for future generations
All of the vaults are Scheduled Monuments and protected by Historic England. They cannot be altered, which is why only a few have lights and power, most have old uneven floors and none of them have toilets. We ask that everyone using the vaults contributes to their long-term preservation by not attaching anything to the walls or ceilings or leaning anything against the walls whilst these ancient buildings are in their care.