103 new affordable homes in Lordshill – Starboard Way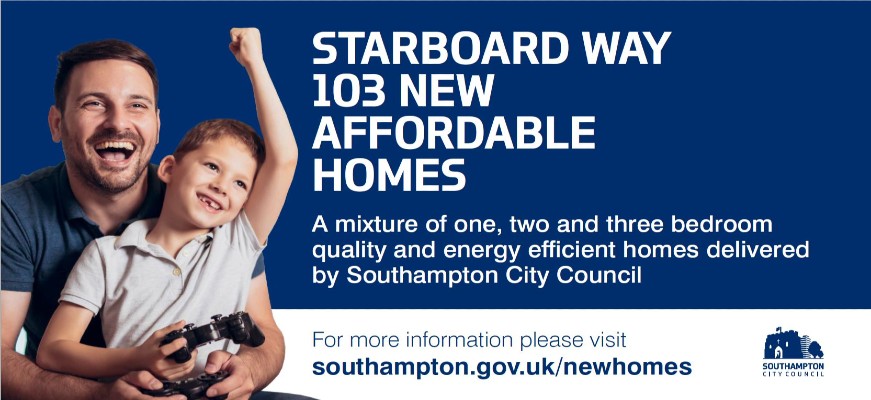 Formerly known as Oaklands, Starboard Way is a development of 103 new council-owned homes off Fairisle Road in Lordshill featuring a mixture of council-rented and shared-ownership homes, while a proportion will also be made available to residents with care needs.
About the development
The scheme is comprised of one, two and three-bedroom houses and one and two-bedroom flats and benefits from a range of energy-efficient features. There will also be areas of formal and informal play across the site including the delivery of a new children's play area in the centre of the scheme.
Starboard Way is set to complement the surrounding area and offer a contemporary street scene by including:
Semi-detached pairs, short terraces and small blocks of two and three-storey flats
A mixture of roof designs
A range of energy-efficient features, such as solar panels
Areas of formal and informal play across the site
A cycle path will be rerouted through the development
Electric charging points in car parking areas, plus improved electrical infrastructure (including substation upgrade) for houses to have the option for these to be installed at a later date
Virtual tour
Take a tour of a brand new two-bedroom semi-detached new home at Starboard Way:
Information about shared ownership homes
Shared ownership offers those who can't afford to buy a home through a traditional mortgage, the opportunity to buy a share of it.
You will pay rent, to cover the percentage of the property that you do not own. The more of the property you have a share in, the lower your rental payments will be. Further shares can be purchased and outright ownership is possible.
You can learn more about shared ownership and register your interest in shared ownership at the Starboard Way housing development.
Have a question or would like more information?