Outdoor advertising in Southampton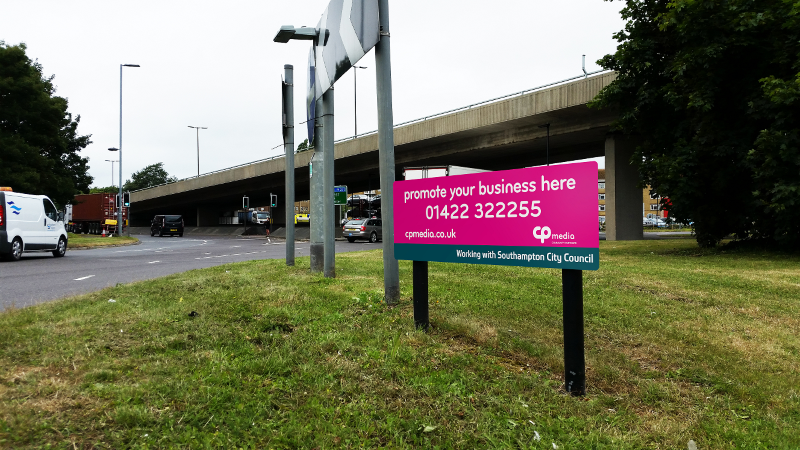 You can target customers in prime city centre locations or the outskirts of the city and the district centres.
Why choose outdoor advertising?
88% of people see outdoor advertising 30 minutes before purchase
Increases likelihood to find out more about the product/brand by 8%
Increases likelihood to buy by 6%
(Source: Outsmart.org)
Where you can advertise
Large digital screens
The large digital screens in the city are managed through Ocean Outdoor. You can email them on info@oceanoutdoor.com or you can call +44 (0)20 7292 6161.
Digital 6-sheets
The smaller digital 6-sheets across the city are managed by Clear Channel.
Community Partners advertising
The following opportunities are available through our approved supplier, Community Partners. For information about prices and availability, please contact:
Lamppost banners
Situated along key city roads and shopping areas, this high impact media provides the best-value local advertising, reaching up to 800,000 people each month from just £5 per day.
Map of lamppost banner locations and availability
Roundabouts
Target local audiences via prominent roundabout advertising situated across the city. These are ideal for locally based businesses, targeting the local community and commuters.
Map of roundabout locations and availability
Welcome signs
There are 16 welcome signs, with advertising space, on the key entry points into the city. A great opportunity to touch a huge audience, with a reach of up to 1.9 million people each month.
Locations and availability are available upon request. Please note there is currently limited availability.
For availability and prices, please email advertising@southampton.gov.uk
Other commercial services we offer