Illegal Tobacco - Keep It Out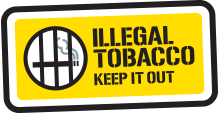 What's the real cost of cheap tobacco?
People who sell cheap tobacco will sell to anyone, including children at pocket money prices. This makes it too easy for our young people to smoke and develop a lifelong addiction to nicotine.
Often the people who sell illegal tobacco are part of organised gangs selling drugs and alcohol as well, so it brings children and young people into contact with this. Illegal tobacco dealers sell loose cigarettes to kids - tripling their profits.
The availability of cheap tobacco makes it harder for people to quit smoking.
The illegal tobacco trade is linked to serious organised crime, often with links to terrorism, and profits strengthen gangs and their grip on vulnerable people.
Honest retailers cannot compete with illegal tobacco sellers, which causes local businesses to suffer.
People caught selling illegal tobacco face fines up to £1000, more if caught selling to under 18s. Illegal tobacco smugglers can be sent to prison for 10 years.
Nationally, illegal tobacco costs the UK economy around £2 billion every year in lost taxation.
Help to protect your community. This isn't a victimless crime, so please report it. If you suspect a shop, premises or person selling cheap supplies of tobacco in Southampton, please report it to the illegal tobacco hotline on 0300 999 6 999. You do not have to give your name.
You can also contact Southampton Trading Standards or report it to the Police by calling 101.
For more information visit the Stop Illegal Tobacco website.